As you pack for your freshman year of college and take the leap into life's next step and to your new home away from home, there are ways to make your dorm feel more home-y. Cute crafts such as mason jars for storage and canvas paintings of your favorite things are perfect, little decorations for your new home as they give off a cozy and personal feel.
Mason Jars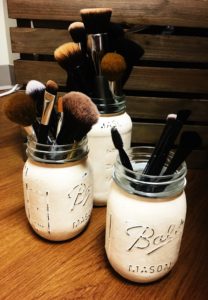 At a minimum cost and for as many as you want, mason jars are great for sprucing up your shelves in your dorm or your desk. They serve as fashionable storage to hold pens and pencils, or a glamorous makeup brush holder. Depending on your color scheme, you can also paint the jars to match. Although, leaving them clear also gives off a classy look. Mason jars are a chic accessory and also act as storage, perfect for your dorm.
Canvases
Art is an awesome way to express yourself and as far as room decor goes, how you design and decorate your room is also a mean of expressing your personality. From cityscapes and landscapes to flowers and coffee mugs, canvas art is the perfect place to show off your passions.
Personally, I like to paint sets where I have two to three canvases all painted differently but are coherent when put together.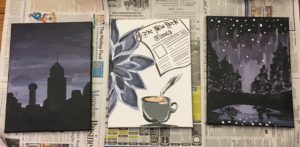 Pictured here, on the right, is a set consisting of a cityscape, a landscape of a lake, and a canvas scattered with a newspaper, coffee mug, and flower to show my love for not only coffee and nature but for journalism as well. I have the city and the lake both painted because I feel at home in both settings, and together on my wall they remind me of places I consider home. They all have a purple color scheme because purple is one of my favorite colors and this way they all tie together.
School specific themed canvas paintings are also super cute. Scattered with different words, phrases, and cheers related to your university show off school spirit and pride, as well as look cute hanging on your dorm room wall. I have painted Mizzou themed canvases and a Ball State themed canvas in the shape of Indiana for my friend.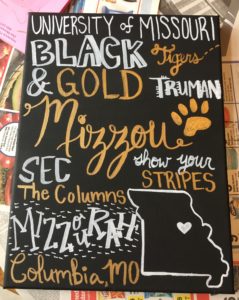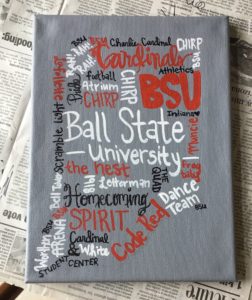 Combining both ideas, my canvas set I painted for my dorm picture a Mizzou themed canvas, a flower, and a newspaper in a yellow theme to match my dorm color scheme of yellow and grey.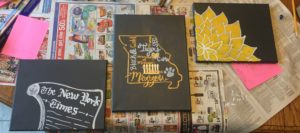 String Pictures
In a cute way to display your memories, photographs clothespinned on a string hanging on your wall is the way to go. As they are simple and full of memories, photographs are always essential to display in your dorm whether to remind you of your favorite places or people. You can find clothespins and yarn or twine at your local craft store. Another idea, is to string your pictures along a strand of lights. On your wall, they make for a great dorm decor.